#MTVEMAs Strips Wizkid of his "Best Africa Act" Award and gives Tanzania's Alikiba
News
November 11, 2016,
Comments Off
In an interesting turn of events, MTV European Music Awards has taken away Nigerian superstar Wizkid's "Best Africa Act" award after he won it at the award show held a couple of days ago. As is the usual practice, Wizkid was announced as the winner of the prestigious award even a day before the actual show was held.
However, the MTV EMAs website now reflects Tanzanian singer Alikiba as the winner of the award and Starboy Wizkid has deleted all reference to him winning the award off his social media pages.
This isn't the first time Wizkid and Alikiba are at loggerheads for recognition. The two stars had an altercation at Chris Brown's Mombasa Rocks Music Festival in Kenya a couple of weeks ago where Alikiba made claims to be a bigger star than Wizkid in Kenya – a country neither of them is from.
MTV EMAs released an official statement. See below.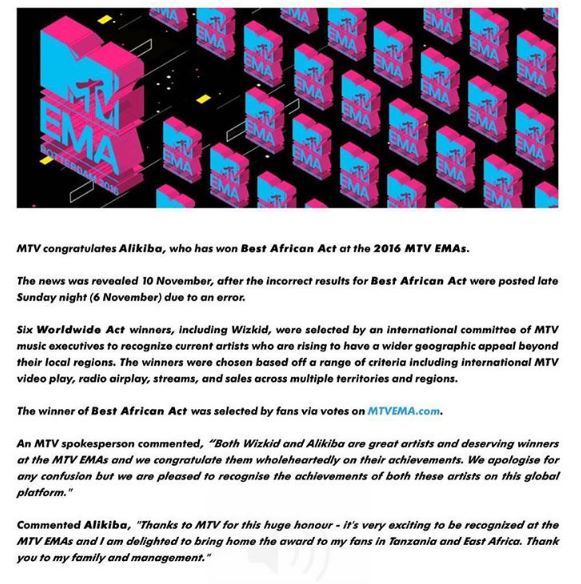 source: bellanaija.com
Comments
comments