P-Square to storm Ghana for Glo Dance with Peter Audition
Events
August 31, 2015,
582 Comments
The much awaited auditions for the 'Dance With Peter' reality TV show promoted by Glo Mobile, berths in Accra tomorrow at the National Theatre.
'Dance With Peter' is a dance competition for the youth and is being organised by Peter Okoye, the other half of the multiple award winning twin singing sensation – P-Square.
The famed musician, who is also highly acclaimed for his dance prowess, is expected inAccra along with judges for the Ghana phase of the auditioning.
Six top dancers will be selected from tomorrow's auditions to join other dancers from auditions in Nigeria for a gruelling contest for the big prizes.
Over the past few weeks, hundreds of talented Ghanaian youths have been registering for the competition via sms on the Glo platform. Company officials disclosed that nearly a thousand youth have so far registered, giving hints that Ghana is poised to do battle for the big prize monies and other prizes.
At stake for the ultimate winner is a brand new Toyota RAV4 car and a GHc45,000 cash prize. The first runner-up goes home with a Honda Civic car plus GHc30,000, while the second runner-up takes GHc 15,000 and a Kia Rio.
Apart from these mouth watering prizes, the winners also have an opportunity to walk the way of fame and professional fortune as they get the opportunity to appear in the music videos of P-Square and other Glo ambassadors.
The competition is open to all categories of dancers, be it solo, duet or group.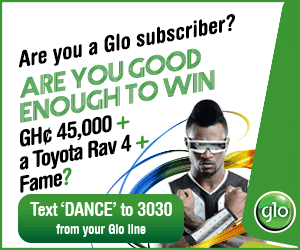 Comments
comments